1.  Tap the Settings/Gear icon in the top right corner.
2.  Tap About Tablet, then in right pane tap Check for Updates.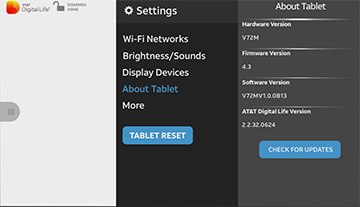 3.  Tap Continue to begin the software update.
4.  Follow the remaining prompts to complete the software upgrade.
5.  Allow for software update to complete download and install. 
6.  Once prompted with a notice of the update, tap Continue.
7. When prompted to restart your device, tap OK.
8.  Allow the device to power off and restart. 
9.  Log in to your system.
10. Your upgrade is complete!